Pondaurat

Pondaurat (33190) is a French commune, located in the department of Gironde and the Aquitaine region.
Its inhabitants are called the Pondauratais (or Dorépontains but less common).
Patrimoine - Situation géographique
History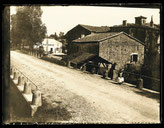 The name Pondaurat means "The Golden Bridge", probably because of the color of the stone of the bridge.
At the end of the 13th century, a commandery was founded by the monks of the order of Hospitaliers Saint Anthony, also called the Antonines. It is located on the route of the pilgrimage to Santiago de Compostela. This fortified commandery includes a convent church as well as a mill and is located near the toll bridge that crosses the Bassanne river. It became subsequently property of the order of Malta and was sold, at the Revolution. The church and part of the convent were bought by the municipality during the nineteenth century).
Heraldry

The blazon of Pondaurat includes:

- The Tau letter, the symbol of the Antonines, founder of the Commandery,
- the dam bridge is the one that crosses and slows down the Bassanne river,
- the shell signals the pilgrimage stage of Santiago de Compostela
- and the Maltese cross represents the last owners of the commandery before the revolution.
*Blazon designed by Benoît Lumeau d'Hauterives and endorsed by the municipaliy on February, 17th, 2009.