The "Gîte d'étape" re-opens on April 1st, 2023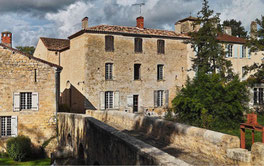 Pondaurat is located on the route from Vézelay to Santiago ("Voie de Vézelay") as well as on the GR654. Many pilgrims and hikers cross the beautiful village of Pondaurat and its magnificent site of the Commandery Saint-Antoine (Saint-Anthony). The "gite d'étape" is located inside the renovated presbytery of the commandery.
Where: between La Réole (7km) and Bazas (20km)
GPS: UMT 30 T 731369 4935526 / 44° 32' 15 N     0° 05' 13'' O
Prices (night with breakfast): 16 € for pilgrims with credential - 18 € for hikers and bikers

Capacity : 6 people

The  gite is located on first floor of the presbytery and includes:
- A living-room with a  fully-equipped kitchen

- a washing machine.
- Two bedrooms, three beds each;

- Two bathrooms (shower) and two independent  WC.
Services : Small basic grocery and toiletries for sale
Beware: no shop in the village, please buy goods in La Réole

Pets are not allowed!

Open from 3pm to 9am upon reservation 

Contact and reservation: +33 6 40 92 39 76 or acsap.pondaurat@gmail.com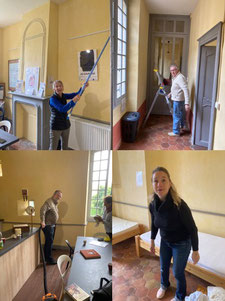 After a last cleaning by our volunteers, the "gite" is now ready to welcome you for a great season.
For more information, contact us +33 6 40 92 39 76 or acsap.pondaurat@gmail.com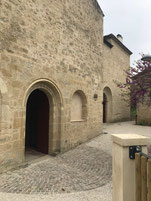 Church Saint-Anthony of Pondaurat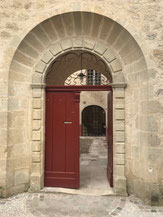 Entrance to the presbytery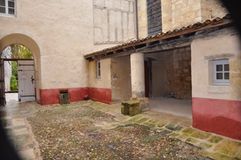 Courtyard of the presbytery
Entrance to the gîte from the courtyard